Our pro ULV62 foggers. These are extremely powerful professional grade foggers with a full one years warranty.
We use these ourselves extensively on a daily basis and have found them to be the best available.
So we wanted to be able to bring them to the market for everyone to be able to fog their own offices, shops, gyms etc and maintain their own safe space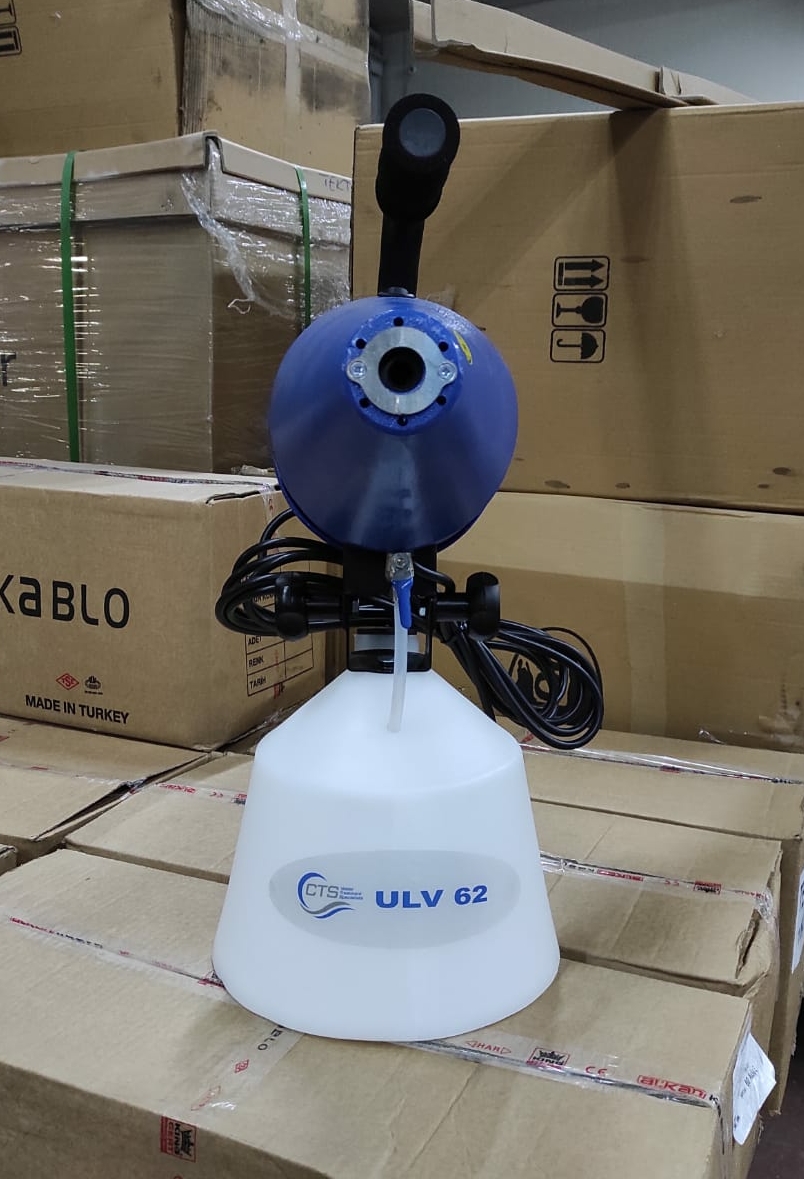 Ulv (ultra low volume) fogging is widely regarded as the best way to fog areas with biocide for killing corona virus. Helping keep business open safely and for longer.
Our fogging chemical has a proven 5 minute kill time and paired with our powerful ULV62 fogging equipment will make light work of even the largest of areas.
There is literally no job too small OR too big for this professional fogging kit.
Contact us today for a quotation and see how chemical treatment services fogging kit can offer clients and staff peace of mind. Keep businesses safely maintained against corona virus using our proven chemical and fogging equipment
Disinfecting premises using fog, mist or vapour systems during the coronavirus pandemic
During the coronavirus (COVID-19) pandemic, fog or mist treatments may be suitable options to help control the spread of the virus, by cleaning and disinfecting a larger space or room. Any use of these treatments for these purposes should form part of your COVID-19 risk assessment. Users must be competent and properly trained.
Select the correct treatment
If you choose to use fog, mist or vapour treatments as a way of cleaning and disinfecting surfaces, discuss your requirements with your manufacturers/suppliers (this may include fumigators), to help you decide if a product/system meets your needs. The treatment you use will depend on:
the size of the area to be treated, its shape and how easily it can be sealed off if delivering an airborne product
whether there are hard or soft surfaces – soft furnishings may act as a 'sink' for the airborne chemicals and emit them for some time after treatment (it may be possible to remove items such as sofas before treatment)
the type of business you have – some areas may be better suited to UV surface treatments than airborne chemicals or vice-versa
Fog, mist, vapour method
If using the fog, mist, vapour method you will need to ensure the correct concentration of the active chemical is used, this means there is enough for it to work properly, but not so much as to leave a residue which may remain at unsafe levels for some time after treatment ends.
There are different types of source disinfectants that can be applied as a fog, mist or vapour treatment. Some are liquid disinfectants used to create a fog, mist or vapour, such as hydrogen peroxide, others are generated from gases, for example ozone from air. Seek advice on what is appropriate to the environment that requires treatment.
Avoiding harm
Disinfectants applied as a fog, mist or vapour may reach harmful levels during delivery and UV systems may cause eye/skin damage if people enter an area undergoing treatment. Discuss with suppliers what safety features they can provide to prevent inadvertent access to a room during treatment. For example, safety sensors, simply locking rooms during treatment if feasible, or safety signage as part of a safe system of work.
Do not spray people with disinfectants
Do not spray people with disinfectants (such as in a tunnel, cabinet, or chamber) under any circumstances. This practice could be physically and psychologically harmful and would not reduce an infected person's ability to spread the virus through droplets or contact. Even if someone who is infected with COVID-19 goes through a disinfection tunnel or chamber, as soon as they start speaking, coughing or sneezing they can still spread the virus.
Do not disinfect large outdoor spaces
In outdoor spaces, large-scale spraying or disinfecting in areas such as streets or open marketplaces for the COVID-19 virus or other pathogens is not recommended. Streets and pavements are not considered as routes of infection for COVID-19. Spraying disinfectants, even outdoors, can be dangerous to people's health and cause eye, respiratory or skin irritation or damage.
Supply and manufacture of disinfectants
The disinfectant applied as a fog, mist or vapour treatment must comply with the Biocidal Products Regulations (BPR). This includes the generation of ozone or free radicals. Please note the use of UV to disinfect is not covered by the BPR.
Under BPR it is the disinfectant, or the chemical used to generate the disinfectant, added to the machine, that is the biocidal product. Please note that the machine itself is not covered by BPR.
Suppliers of fog, mist or vapour units/machines should ensure that any disinfectant products they supply or recommend using with the unit/machine comply with BPR.
HSE has published separate guidance on the regulatory requirements for surface disinfectant products used, manufactured and supplied during the pandemic, which applies to disinfectant products applied via fog/mist/vapour units/machines.
Manufacturers of disinfectant products are responsible for ensuring that their products are suitably effective, including meeting any necessary testing standards. They are also responsible for providing information and instructions for the user on the product label